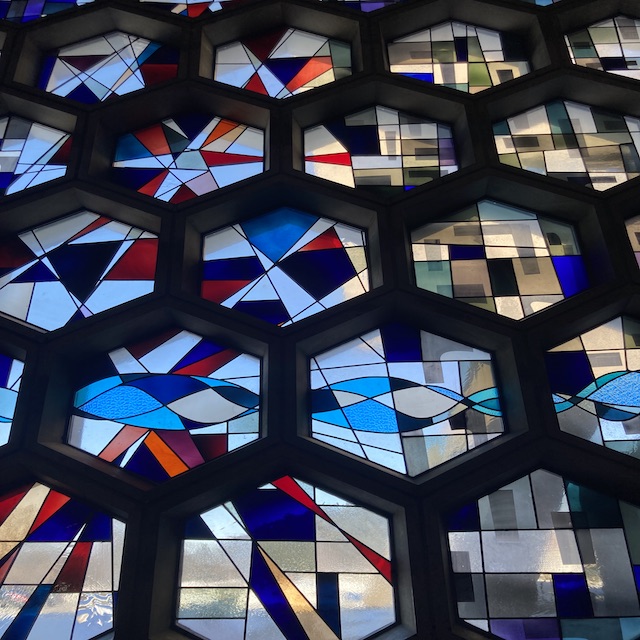 The Saint John's Bible
ABOUT THE SAINT JOHN'S BIBLE HERITAGE EDITION
The Saint John's Bible is the first handwritten, illuminated Bible to be commissioned by a Benedictive monastery in the modern era. After almost fifteen years of work, the pages were completed in 2011 and given a permanent home at Saint John's Abbey and University in Collegeville, Minnesota. The Allison Library at Regent College is fortunate to house a Heritage Edition of TheSaint John's Bible—one of 299 hand-finished editions in existence. A masterpiece in its own right, TheSaint John's Bible Heritage Edition is true to the scale, beauty, and artistic intent of the original manuscript.
The Saint John's Bible is written in the style of an illuminated manuscript and incorporates many of the characteristics of its medieval predecessors. It was written on vellum using quills, natural handmade inks, hand ground pigments, and gild such as gold leaf, platinum leaf, and palladium leaf. At the same time, it employs the modern English of the New Revised Standard Version (NRSV) as well as contemporary scripts and illuminations. In this, the art of The Saint John's Bible transcends generations of religious traditions, incorporating ancient and modern themes to create a holistic, universal, and uniquely human story built around the Word of God.
The prints and illuminations displayed in the Dal Schindell Gallery showcase a small sample of the approximately 160 detailed and rich illuminations found in the complete The Saint John's Bible Heritage Edition, all of which can be viewed in the Allison Library.
ABOUT THE ARTISTS
The Saint John's Bible was created by a group of 23 scribes, artists, and assistants in a Scriptorium in Wales, under the artistic direction of calligrapher Donald Jackson, Senior Scribe to Her Majesty Queen Elizabeth's Crown Office at the House of Lords. The team worked in conjunction with a committee of theologians, scholars, and artists from Saint John's Abbey and University in Collegeville, Minnesota, to create this beautiful artifact. Learn more about the team and their artwork at saintjohnsbible.org.