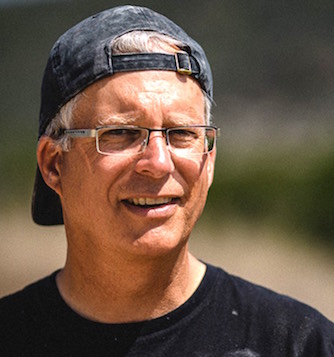 Roger Feldman
Roger Feldman's site-specific sculptures have appeared in numerous solo exhibitions in the United States, England, Scotland, Austria, and Canada. His work has been shown at the Los Angeles Municipal gallery at Barnsdall Art Park, Mobia in New York City, and numerous sites around the U.S. Feldman completed his undergraduate degree in Art from the University of Washington, and hies MFA at Claremont Graduate University in Claremont, California in 1977. In 1986 Feldman was the recipient of an Individual Artist's Fellowship Grant from the National Endowment for the Arts. He currently teaches at Seattle Pacific University.
Q&A
We asked Roger Feldman a few questions about his recent show at the Lookout Gallery, Remnant Future. This interview was conducted July 14, 2015 over email.
Q: Is this the first time you've created two-dimensional pieces from three-dimensional installations? What inspired you to do that?
RF: This IS the first time I have re-created new work from previous installations. For years I have wanted a way to utilize parts of installations into a 2-D form that recalls the original purpose but becomes its own work. This show at Regent was an opportunity to do so.
Q: The original installations were obviously more interactive, since people had to physically walk through the artwork. How do you want viewers to interact with the two-dimensional pieces in this show?
RF: The interactive component of the original site-specific works was a necessary component. One could not perceive the larger experiential metaphors by sitting outside these pieces.
In the works shown at Regent, I incorporated 12"x 12" giclee prints of the original installations, which is second-hand information, but qualifies the fragments surrounding these photos. While the photos give a range of vantage points for each piece, it is difficult to gain access to the reality of actually being there on site and entering in, perceiving with your senses what the implications might be. But at the same time, this second-hand information has the advantage of showing glimpses of each piece, including details and strategic vantage points, which viewers may have missed when they wandered through the original site-specific installation.
So how do I want viewers to interact with the pieces on the wall? Look at the photos, see the actual "remnants" from the original pieces, and understand that they are receiving second-hand accounts. When I think of the Gospel writers, several were first-hand observers of Jesus, and they gave us first-hand accounts of the original "installation" in Jesus. The vehicle for communication was words, handed down through the ages, based on several original texts, and we are left to make sense of context, cultural history, and influences, and interpret the words in our own era. These works are very similar in character to that process of deciphering what really went on. Having first-hand experience is better than intellectual ascent, just as knowing Christ is different from knowing about him. Yet learning about him is an important step in wanting to encounter him personally, just like looking at these remnants of the site-specific installations hopefully inspires viewers to want to experience the installations in their three-dimensional form.
Q: Your work is generally site-specific. What is your process for coming up with a concept for a new work that fits each particular site?
RF: Yes, my work is most often "site-specific." This means that it's created for that site specifically, both physically and conceptually. The piece Wyo Junctures: Corral, however, could be considered site-sensitive as opposed to site-specific. It could be created in a number of settings, because it was based on a scale model that could be built at a variety of scales depending on the available space. In this case, I executed the piece at a scale appropriate for the gallery space at the Kirkland Art Center in Kirkland, WA, where it was shown.
The second body of work is taken from an outdoor site on Orcas Island, WA. In this case, the piece was site-specific, and wouldn't work in the same way anywhere else. I drove up to Orcas Island in the spring, took photographs of the intended site, took measurements of the grounds, took readings from the topography, and understood the slope of the site. This was deliberately worked into the piece. I wanted to emphasize the "kinesthetic" information (brain connecting to muscles to help humans to stay upright in space) and relied on the slope of the terrain to become a deliberate element in the final piece.
As visitors entered the installation, they experienced a gradual incline from one entrance, and a more severe incline from the other. In both cases, their body was processing information to keep them from falling over. In the middle of the piece, I created a level spot that was 2'x 10' long. It was here that the moving viewer experienced level and peaceful ground.
Blind Spot makes reference to those places where we perceive that things are "right," but actually, they are not and we have a perceptual disconnect. In this case, it is the level ground that is different in the context of visual information that is sloping, leaning, encouraging you to perceive differently from the reality that your body is sensing kinesthetically. In other words, visual cues are in conflict with kinesthetic (balance) cues, and you, the viewer have to make sense of that.
Q: What are you working on next?
RF: I'm working simultaneously of four new projects. One is with poet Luci Shaw. I'm developing an installation-scale model (maquette) based on one of Luci's poems, "Ecstasies." We're currently finishing the final maquette, from which we will solicit funding and try to find a site suitable for the work. We want a space (probably a museum) where she could do a reading of the actual poem, and people could walk through the piece and hear a recording of the original reading from opening night, for the duration of the show. I'm very excited about this piece! By the end of this summer, we will be approaching museums or galleries with the idea.
I'm also collaborating with a musician who works with digitized sounds from nature, and we have a finalized maquette showing the acoustical implications of projecting these sounds electronically within the piece while the viewer moves through it. Again, this is large scale and we're looking for funding and a venue for this piece.
The third piece involves a dancer and her troupe. I will design moving components that will be utilized in a dance performance, but will be locked in at the end so that viewers can move through the components as an installation.
My final project is a site-specific installation in front of a church in Seattle. This will be the first time I've done something to be shown out of doors at a church in an urban setting. I have four maquettes worked out for this and meet with the committee this week. Once they select their favourite, I'll gather materials, construct most of the components in the studio, and transport them to the site, to be installed early September 2015.
Q: How does your faith inform your artistic practice?
RF: My faith is intrinsically intertwined with the work I do. My worldview allows me to see through glasses where all aspects of the world are fair game for content to be incorporated into the work. This is an organic process. I keep sketchbooks regularly. Many people keep journals. This is more like a visual/verbal journal. I take notes, draw pictures, and process what I am experiencing in life, including Scripture and listening to sermons!
From these sketchbooks, I get fragments of ideas that I believe the Holy Spirit allows me to process into works of art. I am less interested in compartmentalizing life from art, or the sacred/secular divide, but see that what I create is in response to what I am allowed to see and perceive because of the grace of God. As an artist, what I am creating is an extension of my spiritual awareness and life.
Artist Website