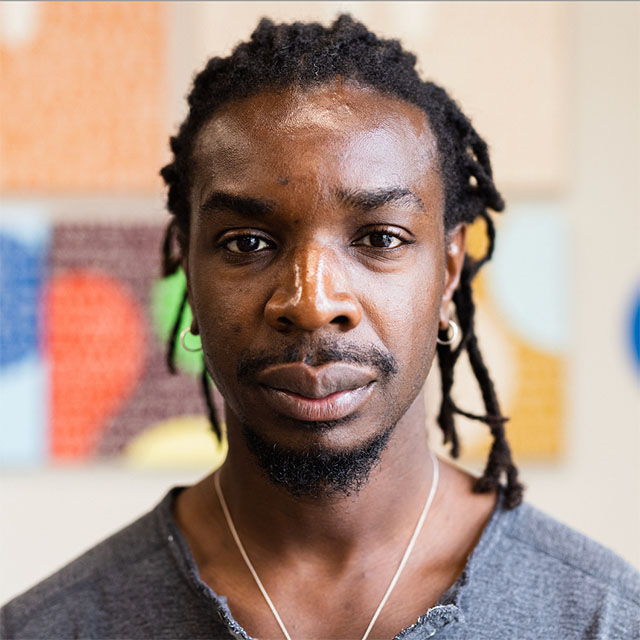 Ghislain Brown-Kossi
Artist Biography
Born in Lyon and raised near Paris, France, Brown-Kossi experienced a great deal of diversity throughout his childhood and school years. The heritage of his family, originally from the Ivory Coast, provides the artist with a rich background of mixed dialects and languages. Having had his first photographic exhibition in an apartment in Paris, he has since exhibited in France, England and Canada. He currently lives and works in Vancouver, British Columbia.
Brown-Kossi's work has been featured in Art Hole 2021, London, UK, in group exhibitions Art Rich 2021 at the Richmond, BC Arts Coalition, Evergreen Gallery, Coquitlam, BC, and is part of a four-person exhibition at the Gibson Art Gallery in 2022, curated by France Trepanier and the CCAFCB (Conseil Culturel et artistique Francophones de la Colombie-Britannique). He is also a member of several professional art associations.
ABOUT BROWN-KOSSI'S ARCHEOLOGICAL POP ART:
"Underlying humanity's diversity in skin colour, culture, language and religion, we are all citizens of the world. I want my art to communicate non-verbally that We Are One; and, to foster a desire to understand each other, to know, to learn, to experience with an open heart.I created non-verbal, universal symbols to communicate to all people, to enable the viewer to understand and interpret each symbol for themselves, in their own unique way – a non-verbal language accessible to all.Through my universal language of symbols, my aim is to interact and communicate with all people of different worlds, to stir curiosity, encourage deeper investigation into our connectedness. I want people to look, to see, to discover for themselves, to communicate and feel joy towards one another. I paint eyes, another form of non-verbal communication, to symbolize the window to the soul that reflects universal depth and beauty on the inside. (By covering our faces during the pandemic, the eyes played a more significant role in our non- verbal communication.)"